Hand Orientation

Ambidextrous

Tracking

Optical

Maximum DPI

3200 DPI

Polling Rate

125 Hz

Acceleration

8G

Number of Buttons

Six

Scroll Wheel Type

Regular

Lighting

RGB

Connectivity

USB

Combo Type

Mouse and Mouse Pad
SPECIFICATIONS
XPG INFAREX M10 Gaming Mouse
Switch
10 million clicks
DPI
800/1600/2400/3200
Dimension
120 x 68 x 35mm / 4.7 x 2.6 x 1.3in
Weight
145g
Acceleration
8G
Ultrapolling
125Hz
Lighting Effect
Full RGB color
System
Windows7/Vista/XP
Voltage
5V
Current
100mA
XPG INFAREX R10 Gaming Mouse pad
Interface
PVC Hard Surface
Dimension
350 x 250 x 3.6mm / 13.7 x 9.8 x 0.1in
Weight
800±5g
Nine Lighting Mode
7 Single solid color lighting & 2 Rainbow Breathing
Cable Length
1.7M
Voltage
4.4V-5V
Current
350mA
Warranty
1 Year
Note

***Features, Price, and specifications are subject to change without notice.
FEATURES
INFAREX M10+R10 Gaming Mouse & Mousepad
The best warriors in the world need the best weapons in their hands. The INFAREX M10 gaming mouse and the INFAREX R10 gaming mousepad are equipped with dazzling
RGB lights to brighten up the gaming experience. Simply tap the surface of the INFAREX R10 to switch between nine different lighting modes, thus creating different atmospheres for different games. The INFAREX M10 mouse, with its 3200 DPI optic sensitivity and Ultrapolling tracking system, allows gamers to precisely lock on to their targets and eliminate them.
RGB Lighting Effects
The INFAREX R10 comes with three different lighting modes: mono-colored lights, cycling lights, and pulsing lights.Gamers can configure their gaming experience according to their preferences.
Durable & Scratch-Resistant
The INFAREX R10 is made of tough,scratch-resistant PVC, allowing it to be used on a variety of surfaces. The mousepad itself has the perfect amount of friction.
Perfect Precision for the Perfect Shot
The INFAREX M10 mouse has a top optical sensitivity of 3200 DPI. It also comes with a DPI adjustment button,allowing the user to change sensitivity settings.
INFAREX M10 Gaming Mouse
● Full RGB color
● Switch:10 million clicks
● DPI : 800/1600/2400/3200
● Ultrapolling: 125Hz
● Acceleration: 8G
INFAREX R10 Gaming Mousepad
● 7 Single solid color lighting mode
● Rainbow breathing lighting mode
● Rainbow cycling lighting mode
Learn How We Build Our Rigs
We follow a strong workflow process in which after successful payment you get images of sealed pack components and GST Invoice within 48 Hours. After this your machine is assembled & stress tested for 8 Hours straight. After monitoring temps & performance we get a green chit from our system integrator to pack the product by following complete safety standards. Your Rig is then dispatched. This entire process from payment confirmation to delivery takes 7-10 Days.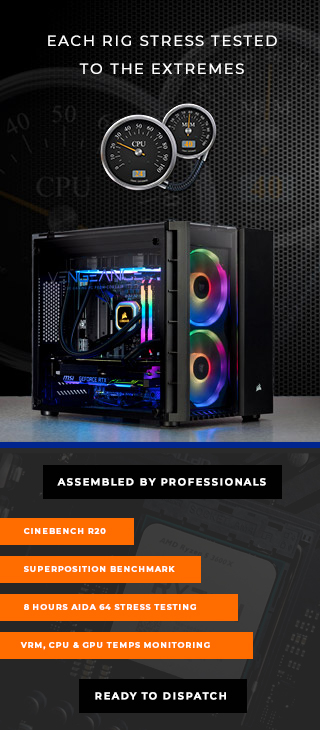 Welcome To Tech Dreams Store
Watch this video we made with Inno3D India featuring our latest Pre-built PC "Asur" which comes with Geforce RTX 3080 Graphics Card. We build every single machine like its our own personal build, keeping in mind thermals, cable management & performance. Your money is in safe hands & we are sure you're going to love this process & the overall experience.
FREE SHIPPING ON PRE-BUILDS
We Ship to more than 19,000 Pin Codes in India, Thanks to our Shipping Partner Shiprocket for the same.
BEST PRICE TO PERFORMANCE
We make sure that our client's get the most out of their hard earned money by the help of our experts.
Got any issues with your new Rig ? We are here to happily assist you with your queries.