BUILD YOUR CUSTOM AMD PC WITH US
Welcome to Custom AMD PC Build section of Tech Dreams Store, Choose & Configure your future PC as per your interest and requirements & get an instant quote of the perfect PC Build. Our Custom PC Builds are built & tested for 8 hours straight & are dispatched within 3 to 5 days. We believe in selling complete solutions rather than selling simple boxes as we believe that one should have complete peace of mind with their PC Build whether its for Gaming, Streaming or productivity.   
Customize your AMD platform based PC Build using our AMD Custom PC Build configurator according to your needs & place your orders today.
Call us directly with the quotation to avoid 2% extra gateway charges by using a different payment mode
Free Shipping
Pan-India, More than 20K+ Pincodes
Estimated Delivery: 5-7 Days
Military Grade Encryption
We Guarantee Best Quality
CUSTOM AMD PC BUILDER
If you're looking for AMD Custom PC Build your search stops at Tech Dreams Store.
Tech Dreams Store presents to you "The Custom AMD PC Builder" which helps our customers to choose their own rig according to their specific requirements & budget.
Following is the list of options to choose from for your AMD Custom PC Build  :-
Processor – Choose your AMD processor ranging from Ryzen 3, Ryzen 5, Ryzen 7 or Ryzen 9 segments.
CPU Cooler – Go with stock or add a custom cooler to keep your processor warm. (Note – Ryzen 7 5800X, Ryzen 9 5900X & Ryzen 9 5950X don't come with a stock cooler so adding a custom cooler is mandatory) 
Motherboard – Choose the best possible motherboard for your AMD CPU as this is going to serve as the foundation for your upcoming PC. For Ryzen 5 segment & above always prefer atleast a B450 chipset or above based decent motherboard.
RAM – You can change the memory size & add multiple memory modules depending on your requirements.
Graphics Card – You can add or skip a Graphics Card as per your requirements.
Storage – Add a solid state drive as the primary means of storage & a hard drive as secondary storage for optimum results.
PSU – Make sure your PSU meets appropriate requirements to handle your selected components at max load. Make sure to call us in case of any confusions regarding the same.
Case – Choose your custom PC cabinet from a wide range of available options.
That's all you need for your upcoming AMD Custom PC Build Folks 
We have made amazing AMD based custom PC Builds for gamers, streamers, video editors & creative professionals. Our clients are in love with our PC Builds & Prompt After Sales Services.
In case of any confusions or suggestions you can call our team at 8750588967 or 8005635341 for better guidance & information.
Learn How We Build Our Rigs
We follow a strong workflow process in which after successful payment you get images of sealed pack components and GST Invoice within 48 Hours. After this your machine is assembled & stress tested for 8 Hours straight. After monitoring temps & performance we get a green chit from our system integrator to pack the product by following complete safety standards. Your Rig is then dispatched. This entire process from payment confirmation to delivery takes 7-10 Days.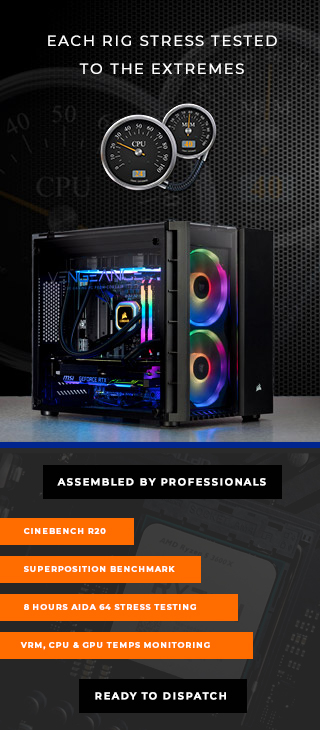 Welcome To Tech Dreams Store
Watch this video we made with Inno3D India featuring our latest Pre-built PC "Asur" which comes with Geforce RTX 3080 Graphics Card. We build every single machine like its our own personal build, keeping in mind thermals, cable management & performance. Your money is in safe hands & we are sure you're going to love this process & the overall experience.
FREE SHIPPING ON PRE-BUILDS
We Ship to more than 19,000 Pin Codes in India, Thanks to our Shipping Partner Shiprocket for the same.
BEST PRICE TO PERFORMANCE
We make sure that our client's get the most out of their hard earned money by the help of our experts.
Got any issues with your new Rig ? We are here to happily assist you with your queries.