Cooler Master MWE Gold 650W V2
Highlights:
Get economical power today with the MWE Gold 650 V2, It's high-efficiency and reliable way to power your system. Featuring advanced flexible black cables, 80 PLUS GOLD certification, low noise level 0 dBA fan, easy to implement & takes's up less space.
The 80 PLUS Gold Certified power supply with 90% efficiency is ready more than ever to have an impact on electricity bill, delivers power in one voltage level with process quickly, efficiently, and safely.
Enjoyed extended connectivity with 1 x ATX 24-pin connectors, 1 x EPS 4+4 pin connectors, 1 x EPS 8 pin connectors, 18 x SATA connectors, 4 x PERIPHERAL 4-pin connectors, 4 x PCI-E 6+2 pin connectors.
Free Shipping
Pan-India, More than 20K+ Pincodes
Estimated Delivery: 5-7 Days
Military Grade Encryption
We Guarantee Best Quality
POWER UP
The MWE Gold – V2 (Full Modular) is the next step in the evolution of Cooler Master's entry-level 80 PLUS Gold power supply unit line. The original MWE Gold series was created in order to offer a simpler and more affordable Gold rated option in order to help users make the transition from 80 PLUS White and Bronze power supply units more accessible.
HIGH-TEMPERATURE RESILIENCE
While the original MWE Gold had a maximum operating temperature of only 45 degrees Celsius, the MWE Gold – V2 has improved upon this by delivering an additional 5 degrees to that limit. With this model, users will be able to push their power supply to 50 degrees Celsius safely.
FULL MODULAR CABLING
The full modular version of the MWE Gold – V2 comes with a set of flat black cables that can be customized to each user's individual needs. With a fully modular setup, each system only needs to include the cables required for its individual components. The rest of the cables can be put aside for future upgrades and maintenance
80 PLUS GOLD CERTIFIED
The MWE Gold – V2 delivers an 80 PLUS Gold certification, guaranteeing a typical minimum efficiency of 90%. Efficiency has always been one of the most important factors for users when choosing their power supply unit
Temperature
Modular Cabling
Efficiency
QUIET COOLING
The MWE Gold – V2 has been upgraded with an HDB fan. This fan bearing delivers quiet and effective cooling with a long lifespan, allowing users to get the most out of their PSU for years to come. A number of additional measures have been applied to the original MWE Gold in order to reduce sound output and ripple noise for a demonstrably quieter user experience.
Learn How We Build Our Rigs
We follow a strong workflow process in which after successful payment you get images of sealed pack components and GST Invoice within 48 Hours. After this your machine is assembled & stress tested for 8 Hours straight. After monitoring temps & performance we get a green chit from our system integrator to pack the product by following complete safety standards. Your Rig is then dispatched. This entire process from payment confirmation to delivery takes 7-10 Days.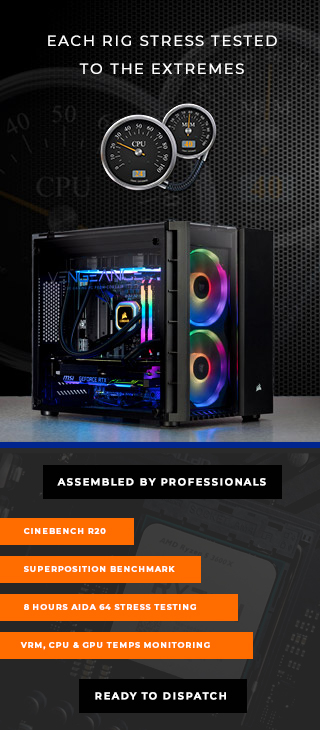 Welcome To Tech Dreams Store
Watch this video we made with Inno3D India featuring our latest Pre-built PC "Asur" which comes with Geforce RTX 3080 Graphics Card. We build every single machine like its our own personal build, keeping in mind thermals, cable management & performance. Your money is in safe hands & we are sure you're going to love this process & the overall experience.
FREE SHIPPING ON PRE-BUILDS
We Ship to more than 19,000 Pin Codes in India, Thanks to our Shipping Partner Shiprocket for the same.
BEST PRICE TO PERFORMANCE
We make sure that our client's get the most out of their hard earned money by the help of our experts.
Got any issues with your new Rig ? We are here to happily assist you with your queries.