Rapoo V600 Gamepad (Black)
Features

Electric Vibration Gamepad 2016
Dual touch,ergonomic design and classic button layout ; High compatibility with common platforms ; User-friendly buttons for easily winning games ; Dual vibration motors for ultimate gaming experience
Dual touch,ergonomic design and classic button layout
1) The smooth surface and matte texture brings together amazing appearance and ultimate comfort.
2) With an eight-way directional pad and dual analog sticks, V600 is easily manipulated with high accuracy.
3) V600 features slip-resistant sides and contoured grips. It is easy to hold and greatly improves control even in the most intense game sessions.
User-friendly buttons for easily winning games
1) X/D/A button allows you to easily switch among the three modes.
2) TUR button allows you to quickly activate semi-automatic and fully automatic rapid-fire functions, and disable them.
3) VIB button allows you to turn on/off the vibration.
High compatibility with common platforms
1) Use XInput (X) mode to play a new generation of gamepad games on PC Windows.
2) Use DirectInput (D) mode to play classic gamepad games on PC Windows.
3) Use Android (A) standard mode to play Android-supported gamepad games.
Dual vibration motors for ultimate gaming experience
1) With the left motor of powerful vibration, V600 gives you exciting experience of feeling every crash and explosion in supported games.
2) With the right motor of slight vibration, V600 provides precise feedback of every friction and hit in supported games.
Learn How We Build Our Rigs
We follow a strong workflow process in which after successful payment you get images of sealed pack components and GST Invoice within 48 Hours. After this your machine is assembled & stress tested for 8 Hours straight. After monitoring temps & performance we get a green chit from our system integrator to pack the product by following complete safety standards. Your Rig is then dispatched. This entire process from payment confirmation to delivery takes 7-10 Days.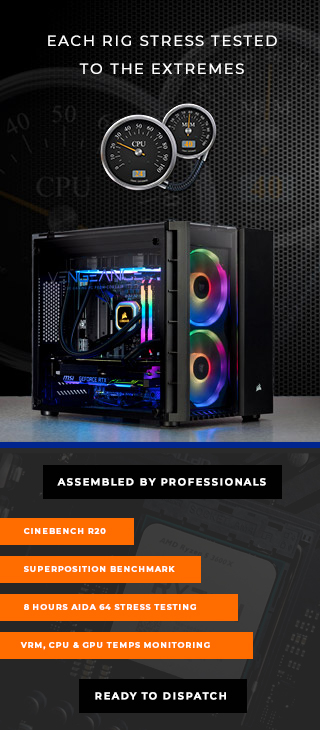 Welcome To Tech Dreams Store
Watch this video we made with Inno3D India featuring our latest Pre-built PC "Asur" which comes with Geforce RTX 3080 Graphics Card. We build every single machine like its our own personal build, keeping in mind thermals, cable management & performance. Your money is in safe hands & we are sure you're going to love this process & the overall experience.
FREE SHIPPING ON PRE-BUILDS
We Ship to more than 19,000 Pin Codes in India, Thanks to our Shipping Partner Shiprocket for the same.
BEST PRICE TO PERFORMANCE
We make sure that our client's get the most out of their hard earned money by the help of our experts.
Got any issues with your new Rig ? We are here to happily assist you with your queries.