Processor – AMD Ryzen 5 5600X (6C/12T)
Cooler – Stock AMD
Motherboard – Msi B550M Pro Vdh
RAM – 16GB (8*2) Gskill Ripjaws 3200MHz
SSD – 500GB M.2 NVMe
HDD – 1TB WD
GPU – Sapphire Nitro+ AMD RX 6600XT (8GB)
PSU – Silverstone Viva 750w (Gold)
CASE – Msi Mag Forge 100R
"ROCKPACK"-Quality Packaging for Enhanced Safety
*To Avoid 2% Gateway Transaction Charges Proceed Paying Via Account Transfer
*Free Shipping on Pre Builds(Delhi only)
*Shipping Charges Applicable on Pre Builds(outside Delhi)
*Kindly Share Your Pincode for Shipping Charges(Contact no- 8750588967)
Free Shipping
Pan-India, More than 20K+ Pincodes
Estimated Delivery: 5-7 Days
Military Grade Encryption
We Guarantee Best Quality
Here we present to you best possible Gaming PC around Rs.80000 in India. The "Matsya R56600" PC Powered by AMD Ryzen & Radeon is all packed up to provide you the ultimate performance.
Processor – AMD Ryzen 5 5600X (6C/12T)
Cooler – Stock AMD
Motherboard – Msi B550M Pro Vdh
RAM – 16GB (8*2) Gskill Ripjaws 3200MHz
SSD – 500GB M.2 NVMe
HDD – 1TB WD
GPU – Sapphire Nitro+ AMD RX 6600XT (8GB)
PSU – Silverstone Viva 750w (Gold)
CASE – Msi Mag Forge 100R
"ROCKPACK"-Quality Packaging for Enhanced Safety
*To Avoid 2% Gateway Transaction Charges Proceed Paying Via Account Transfer
*Free Shipping on Pre Builds(Delhi only)
*Shipping Charges Applicable on Pre Builds(outside Delhi)
*Kindly Share Your Pincode for Shipping Charges(Contact no- 8750588967)
If you wish to checkout more about this AMD Ryzen & Radeon powered specs in detail you can checkout our video at – https://www.youtube.com/watch?v=WV48YNE0So4
This awesome AMD Ryzen & Radeon powered Gaming PC costs around Rs.80000 depending on the current market pricing & availability in India. For current pricing you can contact our sales team at 8750588967 over a phone call or whatsapp & additionally you can also fill out this custom PC Build quotation form over here – https://techdreams.co.in/custom-quote/
Matsya segment of Gaming PC Builds is undoubtedly the best range of Gaming PC under Rs.80000 in India.
At Tech Dreams Store your Gaming PC Testing is conducted to the extremes. We are going to test your Gaming PC using AIDA 64 CPU Stress Tests & Fur Mark GPU Burn in Tests for 8 hours straight away to ensure that your gaming pc is perfect in all terms before it reaches your doorstep via our worthy courier partners.
WARRANTY
All the components used in our PC Builds are 100% genuine & come with the brand specific warranty which is handled by the respective service centres all over India. Thanks, For trusting Tech Dreams Store with your upcoming Gaming PC Build We hope to serve you with all our knowledge, technical expertise & after sales guidance.
Learn How We Build Our Rigs
We follow a strong workflow process in which after successful payment you get images of sealed pack components and GST Invoice within 48 Hours. After this your machine is assembled & stress tested for 8 Hours straight. After monitoring temps & performance we get a green chit from our system integrator to pack the product by following complete safety standards. Your Rig is then dispatched. This entire process from payment confirmation to delivery takes 7-10 Days.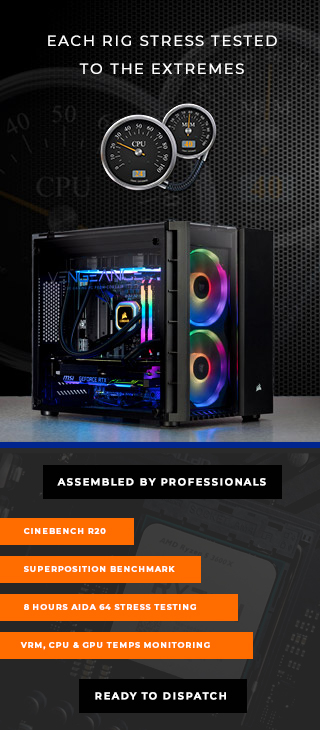 Welcome To Tech Dreams Store
Watch this video we made with Inno3D India featuring our latest Pre-built PC "Asur" which comes with Geforce RTX 3080 Graphics Card. We build every single machine like its our own personal build, keeping in mind thermals, cable management & performance. Your money is in safe hands & we are sure you're going to love this process & the overall experience.
FREE SHIPPING ON PRE-BUILDS
We Ship to more than 19,000 Pin Codes in India, Thanks to our Shipping Partner Shiprocket for the same.
BEST PRICE TO PERFORMANCE
We make sure that our client's get the most out of their hard earned money by the help of our experts.
Got any issues with your new Rig ? We are here to happily assist you with your queries.